What on earth happened to these two women—supposedly handpicked by the president himself to argue on behalf of the Philippine government in peace negotiations with the Moro Islamic Liberation Front—who now seem to be mouthpieces for the Moros?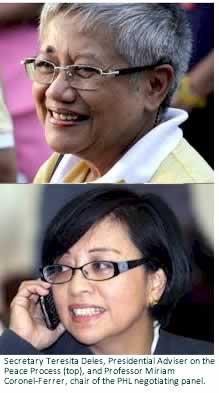 Have Secretary Teresita Deles, Presidential Adviser on the Peace Process and Professor Miriam Coronel-Ferrer, chair of the negotiating panel become mesmerized by the tough "macho" image the rebels project? Or have they been around these terrorists far too long that they're experiencing a "Stockholm-syndrome" like phenomenon?
Whatever the cause, it appears that Deles and Ferrer have given up all pretense to the contrary and are now overtly pushing the Muslim rebels' agenda instead of the Philippine Government's. When the 44 Special Action Force (SAF) police officers were massacred in Mamasapano, Maguindanao on January 25th, there was nary a word—or even a hint of condemnation—from either of these two women. Real negotiators would have seized on that event to question the sincerity of the Muslims, or use it as a bargaining chip to extract more concessions from them. Instead these two women, like their burka-clad counterparts in the Muslim world, stood silently by "their men" even arguing on behalf of the rebels during televised Philippine Senate sessions that investigated the massacre.
In fact not one but two Senators (Alan Peter Cayetano and Francis "Chiz" Escudero) noticed their odd behavior and were concerned—and probably confused—enough to ask them outright which side they were on. Had the Mamasapano incident not happened at all, there can be no doubt that Deles and Ferrer would have rammed through the Bangsamoro Basic Law just to put a feather on their cap. They would then leave it to future generations to clean up their mess at the cost of hundreds more lives, including the possibility of forever losing Mindanao and surrounding islands to a future Muslim caliphate that would rise out of the Bangsamoro that these two clueless women would have helped establish.
Well, things didn't quite turn out the way Deles and Ferrer had planned—thanks to the 44 SAF troopers who had to give up their lives in order to open the eyes of Filipinos to the treachery of the Moro Islamic Liberation Front who say they want peace yet look for the slightest excuse to make war.
These two women have already caused enough damage and grief for the Filipino people; it is time they resigned their posts. The Philippines can then replace them with true negotiators who have the country's best interest at heart.
A Philnews.com editorial