Rodel Rodis@inquirerdotnet


China's reclamation on Mabini Reef.

One threat involves the seizure of territory from our homeland while the other involves the carving of a homeland out of our territory.

These two divergent threats converged on the same day, March 19, when 20 Philippine senators in Manila issued a Mamasapano report which undermined Pres. Aquino's proposed peace agreement with a Filipino Muslim group seeking to create a Bangsamoro homeland within the Philippines, while in Washington DC, four US senators wrote a letter to the US secretaries of State and Defense to denounce China for its invasive land reclamation activities within the Exclusive Economic Zone (EEZ) of the Philippines.

Remarkably, these US senators are four more than the total number of Philippine senators who have denounced China's invasion of Philippine territory. Not a single Philippine senator has stood up on the Senate floor to condemn China's massive land reclamation of Philippine territories in the West Philippine Sea growing 11-fold: 28 acres (114,000 square meters) in Burgos Reef (Gaven Reef); 25 acres in Mabini Reef (Johnson Reef) and increasing Kagitingan Reef (Fiery Cross Reef).

They are not swayed by the fact that, in a nationwide poll conducted by Social Weather Station (SWS) from December 2013 through January 2014, "an overwhelming majority of Filipinos (93 percent) back the government's efforts to defend the national territory" against China.

That's right folks, the only senators willing to criticize China for invading Philippine territory are in Washington, DC. In their letter, the four US senators (John McCain, Robert Melendez, Jack Reed and Bob Corker) expressed grave concern about China's land reclamation and construction in the West Philippine Sea. "While other states have built on existing land masses, China is changing the size, structure and physical attributes of land features themselves. This is a qualitative change that appears designed to alter the status quo in the South China Sea," they wrote.

"It is our understanding that the majority of this work has been completed in the past twelve months alone, and if current build-rates proceed, China could complete the extent of its planned reclamation in the coming year," the letter added.

What is China building on these newly created islands?




According to James Hardy, Asia Pacific Editor of IHS Jane's Defence Weekly, a publication specializing in military affairs, "Where it used to have a few small concrete platforms, it now has full islands with helipads, airstrips, harbors and facilities to support large numbers of troops. We can see that this is a methodical, well-planned campaign to create a chain of air and sea capable fortresses across the center of the Spratly Islands chain."

Threat to national security

The Philippines first learned of China's massive land reclamation activity when its Philippine Air Force plane noticed significant reclamation activity in the Mabini Reef while searching for the missing Malaysia Airlines plane in February of 2014. In the span of one year since then, the shoals of Mabini Reef now contain an airstrip and port facilities on 25 acres of land.

Former National Security Adviser Roilo Golez posted the Chinese corporation's designs for the islands on his blog and warned about the dangers posed to Philippine national security and to ASEAN stability if China completes its military installation in Mabini Reef. In an interview on ANC, Golez said:

"You can see this is probably a mile-long airstrip. It's almost like an airport, …there's a dock for ships. I understand it can support and resupply frigates. But what is very threatening is that mile-long strip because now they can base their fighters there. I'm looking at, for example, a J-11 fighter jet made in China that has a range of 2000 miles… So it can threaten all our vital military installations including the installations we can make available under EDCA."

EDCA is the Enhanced Defense Cooperation Agreement between the US and the Philippines, which will allow the U.S. military to have access to Philippine bases across the Philippines archipelago for a 10-year term "on a temporary and rotational basis." The Philippine government views the presence of these U.S. troops as deterrence to China's territorial ambitions.

Philippine senators have been quick to denounce EDCA for violating the Philippine Constitution, which prohibits the establishment of foreign military bases in the Philippines. But none of them have denounced China for installing as many as eight military bases on Philippine soil.

Why are these Philippine elected officials so fearful of criticizing China?

Many of these senators fear that they may not be able to visit China. More importantly, these politicians rely on the financial support of Chinese-Filipino ("Chinoy") taipans. Among the top Chinoy billionaires are Henry Sy, Lucio Tan, Andrew Tan, John Gokongwei, Jr., Tony Tan Caktiong, Ben Chan, Edgar Injap Sia and Ramon Ang. They own the largest corporations in the Philippines from SM to Jollibee.

Many of them have billions of dollars of investments in China such as the Eton Hotel in Shanghai, which is owned by Lucio Tan. Due to their heavy investments in China, these taipans will be very receptive to any "suggestions" from the Chinese government as to which Philippine candidates to support or not support.

China called Aquino's bluff

In his 2011 State of the Nation Address (SONA), Pres. Aquino warned China: "Our message to the world is clear: what is ours is ours. Setting foot on Recto Bank is no different from setting foot on Recto Avenue," he said.

But apparently, setting foot on Scarborough Shoal (Bajo de Masinloc), Mabini Reef, Burgos Reef, Kagitingan Reef and other reefs in the West Philippine Sea is not the same as setting foot on Recto Bank.

All the Philippine government has done in response to China's invasive acts has been to file an arbitration claim before the United Nations International Tribunal on the Law of the Sea (ITLOS) arguing that China, a signatory to the United Nations Convention on the Law of the Sea (UNCLOS), should recognize that the EEZ of each country is 200 nautical miles of the country's land base belongs to that country.

But China has chosen to ignore the ITLOS claim before the U.N., and the claim will not be decided until April of 2016. In the meantime, China is furiously completing its massive land reclamation of the Philippine shoals in the West Philippine Sea.

What China understands is that under UNCLOS, "islands" carry more significance than "rocks." Holders of "islands" gain an Exclusive Economic Zone, which confers key rights within 200 nautical miles of the coastline, including exclusive access to energy exploration.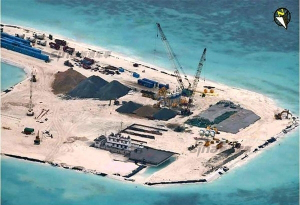 This is the method to the madness. What were once just rocks protruding in the sea have been transformed by China into islands which they claim to own based on centuries' old maps and on a "nine dash line map" drawn by a Kuomintang general in 1947.

The Philippines insists these shoals – despite their island transformations – are still just a combination of rocks and "low-tide elevations", which carry fewer privileges and significance in UNCLOS.

Ph will soon be in China's EEZ

Professor Richard Heydarian of the International Relations Department at the Ateneo de Manila University believes that China is changing the facts on the ground by reclaiming and occupying disputed waters and land features.

"The way China looks at this is, down the road, they have to face the legal opinion arbitration. And if you look at the recent trends in international arbitration, they give priority and prerogative to the countries who continue to establish and exercise effective and continuous sovereignty. If China will be able to build structures there, and they turn these structures into islands and project into 200 nautical mile economic zone, somehow they'll be able to argue this legally."

China stationed two hydrographic ships in Recto Bank in August 2014 and has ignored demands by Pres. Aquino to withdraw its invading ships immediately as Recto Bank is only 80 miles from Palawan well within the 200 mile EEZ of the Philippines. Recto Bank reportedly has 50 billion barrels of oil and 16.612 trillion cubic feet of natural gas underneath it, enough to fuel China's energy needs for the next century.

The only Philippine military presence near the Recto Bank is a small detachment of Philippine marines stationed on a grounded ship, the Sierra Madre, by Ayungin Reef which is the gateway to the Recto Bank. China has surrounded the Ayungin Reef with at least six ships blocking Philippine Navy access to the Sierra Madre. Employing this "cabbage strategy," China sees itself occupying the Ayungin within a year.

Once China completes making Chinese "islands" out of the Philippine shoals, China will soon claim that Recto Bank is within its EEZ. After that, China will make the same claim for Palawan and the rest of the Philippines will follow.

By then, the contentious issue of whether Bangsamoro is a homeland within the territory of the Philippines will be moot.

Perhaps by then, one Philippine senator will stand up to denounce China.

(Send comments to Rodel50@gmail.com or mail them to the Law Offices of Rodel Rodis at 2429 Ocean Avenue, San Francisco, CA 94127 or call 41.334.7800).

Read more: http://globalnation.inquirer.net/120236/cowardly-senators/#ixzz3W2FbYhA3