(The Philippine Star)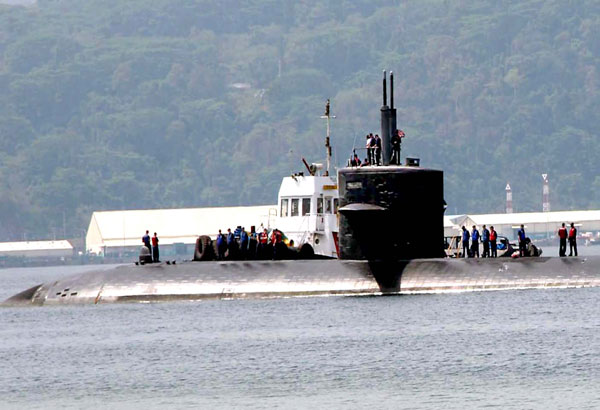 NAYPYIDAW – Amid simmering maritime territorial disputes with China, foreign ministers of the Association of Southeast Asian Nations (ASEAN) yesterday called on countries concerned to exercise self-restraint and avoid actions that can fuel tension in the region.
But the gathering fell short of identifying China or other countries in the statement, which is a "stand-alone" declaration and not the usual joint statement issued at the end of ASEAN ministerial meetings.
In a press conference at the Myanmar International Convention Center here, ASEAN Secretary General Le Luong Minh explained that this was because the concerns raised were about the "conduct" of China and ASEAN members.
He made the clarification when asked why the statement did not sound strong enough to send an unequivocal message to China.
"We know which countries are mentioned in the statement," Minh said.
In their statement, the ASEAN ministers urged parties involved to "exercise self-restraint and avoid actions which could undermine peace and stability in the area; and to resolve disputes by peaceful means without resorting to threat or use of force" in accordance with international law, including the 1982 UN Convention on the Law of the Sea (UNCLOS).
The ministers also "reaffirmed the importance of maintaining peace and stability, maritime security, freedom of navigation in and over-flight above the South China Sea."
They also called on China and the ASEAN to speed up implementation of the Declaration on the Conduct of Parties in the South China Sea to create an "environment of mutual trust and confidence."
The "stand alone" statement came amid rising tension in the South China Sea and West Philippine Sea following a confrontation between Chinese and Vietnamese ships near the Paracels. Hanoi said this week that Chinese ships that had surrounded a Chinese deep-water oil rig in waters claimed by Vietnam had used water cannon against, as well as rammed, Vietnamese patrol vessels there.
Meanwhile, Philippine Coast Guard arrested 11 crew members of a Chinese-flagged fishing boat Tuesday for poaching protected marine turtles in waters that are part of the Philippines' exclusive economic zone.
Manila has also been protesting the continued presence of armed Chinese vessels around the Philippine-controlled Ayungin or Second Thomas Shoal as well as their increasing poaching activities within Panatag or Scarborough Shoal and other areas within the country's exclusive economic zone.
Manila had accused fellow ASEAN member Cambodia, a close friend of China, of bowing to Chinese pressure by blocking inclusion in ASEAN documents of statements or clauses objectionable to China.
Other ASEAN members have expressed concern over the recent developments in the South China Sea and West Philippine Sea. Singapore on Thursday urged ASEAN and China "to work toward an early conclusion of the Code of Conduct in the South China Sea."
Face up to China
President Aquino, shortly before his departure for Myanmar yesterday, meanwhile urged ASEAN members to unite and face up to China's aggressive staking of its territorial claims in the region, saying Beijing's bilateral approach to settling disputes is unacceptable.
Aquino issued the call shortly before departing Manila for the 24th ASEAN Summit here.
"We wish to emphasize, uphold and follow the rule of law in resolving these territorial issues so that the rights of all countries involved will be recognized and respected," Aquino said in a speech at the Ninoy Aquino International Airport Terminal II. Aquino will return to Manila tomorrow.
"This step mirrors our belief that an issue that affects all countries in the region cannot be effectively resolved merely through a dialogue between two countries," he said, adding that the issue concerned the "security" of Southeast Asia.
Aquino, on arriving here in the afternoon from Manila, said he would share with his fellow ASEAN leaders the country's submission last March of a memorial or written argument of its position on China's contentious claims in the West Philippine Sea to The Hague-based arbitral tribunal in accordance with the UNCLOS.
"The message we want to deliver: uphold and follow the rule of law in resolving territorial issues so recognition and respect for every country's right prevail," Aquino said.
China has rejected arbitration in the Philippines' UN case, preferring to settle the issue through bilateral negotiations while insisting its sovereignty over these areas was "indisputable."
The President made the statement amid growing skepticism over ASEAN's ability to stand as one on many issues, including China's bullying in the West Philippine Sea and South China Sea. China is a major trading partner of ASEAN members.
China's expansive claims even include waters and rocks close to the shores of its neighbors.
The areas coveted by China are crisscrossed by fishing and shipping lanes and are thought to contain huge oil and gas reserves.
Aside from security concerns, Aquino said he would also raise the climate change issue as well as the need for inclusive growth to ensure that the poorest of the poor would not be left behind.
"It is clear to us: We can speed up resolution of the problems that ASEAN is facing if we have strong cooperation among members," Aquino said.
On track
Facing "unity" issues and nearing the homestretch of its goal to be a single market by next year, ASEAN is on track in achieving its goals, Minh also said.
In a statement, Minh expressed optimism about Myanmar's ability to provide leadership to the grouping at this "critical stage" of community building.
"Overall I think we are on track and I'm quite confident that by December 2015, the deadline for the launching of the ASEAN Community, we will be able to do that," Minh said.
This was the first time Myanmar hosted the summit in its 17 years of being part of ASEAN.
Earlier, Asian Development Bank economist Jayant Menon said ASEAN is unlikely to achieve all the targets it had set out to have a fully integrated regional economy given the difficulties in implementing measures aimed at instituting and harmonizing the so-called "non-tariff barriers."
He said even the ASEAN scorecards would show that a more realistic deadline is 2025.
Myanmar's chairmanship comes amid the country's ongoing democratization and reform efforts which have been "enjoying strong ASEAN support from ASEAN member-states and the international community at large," he said.
He added that ASEAN is extending all necessary assistance and cooperation to ensure the success of Myanmar's hosting of the summit as "Myanmar's success is ASEAN's success."
"The ASEAN community will leverage this position to maintain peace and stability in the region which are requisite ingredients for narrowing the development gaps within and between ASEAN member-states," he said.
Minh also expressed concern about a prolonged political crisis in Thailand, saying it would likely affect ASEAN's community building efforts.
In his statement, Minh said that despite "publicized challenges," ASEAN had made it clear that its economic community would push through as planned and that it had addressed 80 percent of the required tasks.
The secretary general said various socio-cultural initiatives are being implemented by member-states in areas of education, health, cross-border pollution control and disaster management, among others.
P6.8-M budget
Meanwhile, Malacañang said the national government has allotted a measly P6.8 million for President Aquino's attendance to the ASEAN Summit.
Aquino left for Myanmar on a chartered flight. Executive Secretary Paquito Ochoa Jr. said Aquino was accompanied by a 56-member delegation, among them Speaker Feliciano Belmonte Jr., Finance Secretary Cesar Purisima, Press Secretary Herminio Coloma Jr., Foreign Affairs Secretary Albert del Rosario, Trade Secretary Gregory Domingo, Presidential Management Staff chief Julia Abad, Mindanao Development Authority chairperson Luwalhati Antonino and protocol chief Celia Anna Feria.
Funding for the trip covers expenses for transportation, accommodation, food, equipment and other requirements of the President and his official delegation.
"President Aquino is expected to discuss quite a few issues of parallel interest with his fellow ASEAN leaders and stress on our decisive stance for the peaceful resolution in the disputed waters in the region," Ochoa said.
The DFA said Aquino was set to attend a dinner to be hosted by Myanmar President Thein Sein for the ASEAN heads of state. – With Delon Porcalla